Forthcoming
In mid-July 2015, Orbis Books will release Phyllis Tickle – Essential Writings, edited by Jon Sweeney, as the next volume in its Modern Spiritual Masters Series.
Of Continuing Interest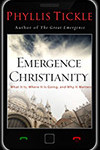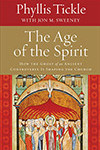 As many of you may already know, I completed the process of my retirement from public life at the beginning of 2015. At a practical level, what that change effects most immediately and visibly is the kind of the "Events" to be listed now in this space.
The principal reason for my seeking to withdraw from the totally enjoyable business of the public speaking life and from the sometimes less enjoyable one of over much traveling was, and is, the need to give more time to my writing, and especially to the sustained study and research that are going to be required if I am to realize that work as fully as I hope to do. There is a natural corollary to such a shift, however. That is, inevitably study draws one more and more toward the academic. Accordingly, I will now be functioning from time to time as a guest lecturer or visiting scholar in various academic and quasi-academic settings. Where these events are open ones, either through electronic media or simply by virtue of being academically-oriented, but "public" lectures and, where it is appropriate to do so, they will be listed here.
Beyond all of this, of course, is the much more basic fact that I am indeed a writer by trade, and writers write books that publishers not only publish, but also want passionately to promote and sell. As a result, there is a kind of quixotic but collegial understanding between writers and those who publish us that there will always be public gatherings when new books are released…or even when some older ones undergo revival. Accordingly, as time progresses, such events as those will be posted here as well…and I, for one, hope there will be many of them, for I already miss the camaraderie of public life, if not all that traveling.
Phyllis Tickle

PHYLLIS TICKLE, founding editor of the Religion Department of PUBLISHERS WEEKLY, is frequently quoted in print sources like USA TODAY, CHRISTIAN SCIENCE MONITOR, and innumerable blogs and web sites.
In addition to lectures and numerous essays, articles, and interviews, Tickle is the author of over three dozen books in religion and spirituality, most recently Age of the Spirit, Emergence Christianity-What It Is, Where It Is Going, and Why It Matters, The Great Emergence, How Christianity is Changing and Why and The Words of Jesus, A Gospel of the Sayings of Our Lord.  read more
Also Available
Available at many bookstores including . . .