Just Released
What They Are Saying
"Phyllis Tickle brings so many gifts to the table that it is sometimes hard to believe there is only one heartbeat behind them all. She is a seer, a scholar, a spiritual guide, a literary and cultural savant, a walking encyclopedia, and a mentor to more people than there are seconds in the day. Above all, she is a faithful lover of God and all to whom that love relates her. Reading her is second best to knowing her, but read her you must."
                                      Barbara Brown Taylor
Of Continuing Interest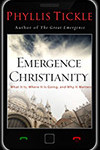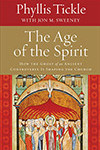 RELIGION PRESS RELEASE — July 27, 2015
Literary Trust Established to Manage Estate of Phyllis Tickle, Author, Authority on Religion in America, and Founding Religion Editor of Publishers Weekly
The Farm in Lucy, Tennessee, July 24, 2015 —Tickle, Inc. announces the establishment of the Phyllis A. Tickle Literary Trust for the purpose of managing the literary estate and copyrights of Phyllis Tickle. Serving as Trustees are Joseph Durepos, Executive Editor of Loyola Press, Jon M. Sweeney, Editorial Director of Franciscan Media, and Samuel M. Tickle, Jr. of Millington, TN.
Phyllis Tickle announced in May that she has been diagnosed with inoperable stage four lung cancer.
Tickle was the founding editor of the Religion Department of Publishers Weekly, the international journal of the book industry. She is an authority on religion in America and has been a much sought after lecturer on the subject for two decades. In addition to poems, lectures, and numerous essays, articles, and interviews, she is the author of over three dozen books in religion and spirituality, most recently The Age of the Spirit; Emergence Christianity: What It Is, Where It Is Going, and Why It Matters; The Great Emergence: How Christianity is Changing and Why; and The Words of Jesus: A Gospel of the Sayings of Our Lord. She is also the author of the notable and popular The Divine Hours series of manuals for observing fixed-hour prayer.
A collection of Tickle's writings were added to the "Modern Spiritual Masters" series of Orbis Books in 2015 under the title Phyllis Tickle: Essential Spiritual Writings, selected with an introduction by Jon M. Sweeney. Sweeney is also now researching and writing a biography, Phyllis Tickle, to be published sometime in 2018.
The Phyllis A. Tickle Literary Trust may be contacted by writing: Tickle, Inc., 3522 Lucy Road South, Millington, TN 38053-7817 or [email protected].
Contact
Kelly Hughes
[email protected]
312-280-8126